Name:
Adam Benjamin
Rank:
Firefighter
Age:
28
Lives:
Oliver Twist, Blackwall, London
Married:
No
Children:
None
Previous Postings:
?
Adam transferred into Blackwall at the beginning of Series 13, and is said to be a bit of a wheeler-dealer with fingers in many pies. Is there anyone at Blackwall that doesn't have problems/dodgy dealings??
Adam has been transferred to replace Sicknote, and his first shout was a burning building where he entered with no BA on, from which he gets reprimanded by Pearce for recklessness.
Later on we find that the Benjamins are well known by the local police for their crime, leading to suspicions about Adam. He is now joint licensee of the Oliver Twist pub, where he lives.
After cousin Frank is found at an arson, Adam shops him to the Police. This leads to Frank being assaulted by a local villan family, but he blames Adam. Adam is arrested for GBH but due to Elaine gets off on it. He is suspicious of her role in the affair and she is forced to admit that she is his mother.
Adam Benjamin Photo Gallery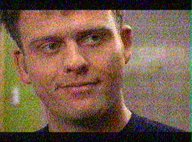 The Actor - Sam Callis:
Apart from small roles in The Bill, much of Sam's previous work has been in the theatre and he has appeared in Twelfth Night and Henry V. Sam lives in London with his girlfriend and hopes to further his writing career as well as star in LB.