Fire Fighter Jack Morgan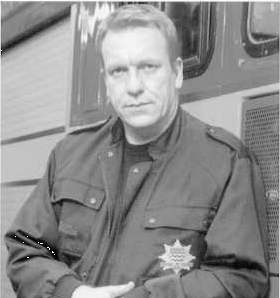 Jack is now one of the elder experienced firefighters, having joined Blue Watch in 1994. He used to be in the Navy before changing to using water to save lives! Jack was married to Linda, but is now separated from her. they have a son called Stephen (played by Clive's real son), but they still have feelings for each other as found out recently. Jack's behaviour has been worrying his superiors, he has been fighting for custody of Stephen, and he even nearly committed suicide while on the top of the turntable ladder at a shout. He then insulted the whole Watch, and spun out. After councilling, he arrived back at Blackwall with his usual humourous jokes and pranks.
The Actor - Clive Wood:
Clive has been in TV for a long time, he starred in A Bit of Loving in the 1970's, then as DCI Wray in The Bill in 1984. Another TV part was in Press Gang on Childrens ITV, alongside Julia Swahalia. Then there was a pause until joining LB in 1994. Clive is married and has one son (see above).
Click

here to return to the UNOFFICIAL Londons Burning web page