"On location"


At Goodmayes, East London August 1998
While on a normal visit to the capital on 4th August 1998, I happened to be at Dockhead Fire Station near Tower Bridge,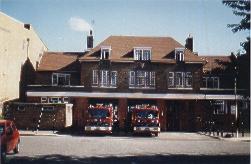 which is the setting for all the station scenes in London's Burning (see above). While I was there the helpful firefighters told me of the filming of the 11th series was happening at Goodmayes. Armed with my camera, local A-Z street map, a one-day travelcard and a lot of hope, my friend and I rushed to Goodmayes station. We asked about where the location was with one shopowner saying "I heard a load of sirens earlier, I hope it's nothing serious!"
It wasn't hard to spot where the filming was, and heres a selection of photos we took on that day (and the following day):
Scene shots
You can feel the heat from here! Blackwall's pump ladder sits under the flames of the cinema blaze
Another view of the scene, with part of the massive crowd shown
As some of the cast spray water on the fire, Nick Georgiadis climbs up the ladder.
Jack and Joe run round the side of the building to find a fire escape
The Cast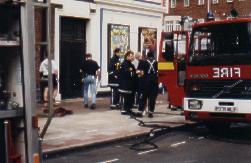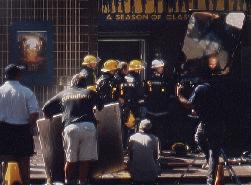 Some of the cast are seen here waiting for the word "ACTION"

While some have a laugh with local people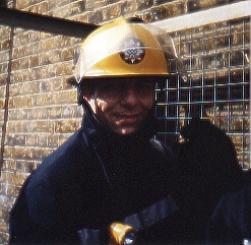 From l-r: Jack (Clive Wood), Joe (Jim Alexander), Nick (Andrew Kazamia),
All images are ęG.Perkins 1998, please do not use them on other web pages