SERIES 13 EPISODE GUIDE
Episode 14 - first screened 6th May 2001
Written by: COLIN STEVEN
Directed by: NIGEL DOUGLAS
Produced by: ANGUS TOWLER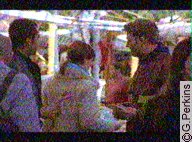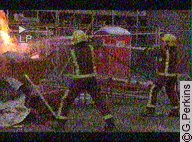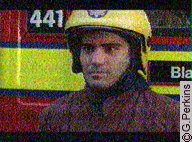 The Watch are at the local market to give out some Fire Safety leaflets. Adam as usual is chatting up a female, while hi-Ho seems to be doing well. He gives a leaflet to a young woman, who screws it up and throws it on the floor. Hi-Ho gets a bit angry and shouts at her, Recall and Pearce step in and tell him not to worry about it. The pump is then called to a fire in a skip. Some kids are throwing stuff onto it as they arrive. They quickly extinguish it, Hi-Ho thinks he can see someone in the skip, but it turns out to be a dummy. Adam and Hyper take the mick (as usual!)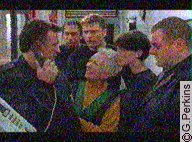 Back at Blackwall, Pitbull is showing Red Watch's new Guv, Simon Dexter the Watch Room. Pearce takes over from Pitbull showing him round. Sally is still on about the inquest, and Hi-Ho is told he has to attend to give evidence. The others are in the mess while George listens to the radio. Pearce brings Dexter into the mess and Maggie immediately asks if he's married!! He explains he has 20 years "service" and 5 kids, and then goes to meet Coleman. Its obvious they know each other and sit down for a chat, putting Pearce's nose right out of joint. Andie and Lenny are at the gym listening to the radio, when a firefighter named George goes on the 60 second quiz. It doesn't sound like our George though so they switch it off. In fact its Pitbull, whos phoned up on Georges behalf, so when George realises, he's on the spot and has to take part, with the Watch egging him on. With Recalls help he answers every question and wins a pair of West Ham season tickets. Then he is asked to gamble for a week long trip for two in Italy, the Watch have already made up his mind! Somehow George pulled the answer out of the bag and wins a nice holiday. Pitbull expects to go as he made the phone call, but George says he can come....... and see him off from the airport! Pitbull, looking to triumph over the smarmy Blue Watch sees an advert for a beautiful baby competition and suggests to Dexter to enter his youngest. George telephones Andie and tells her to come down the pub later as its "Sal's birthday"...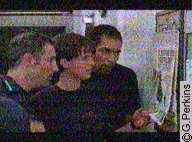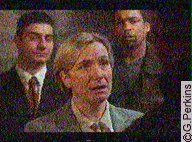 Pitbull has put a poster up about the competition and the Watch think its a challenge, but where are they going to get a baby, just as Pearce passes...... He refuses to allow Eve in the competition. The crew suggest a drink and invite Dexter and Coleman. Hyper takes the mick out of Pitbull who for once is on duty! Dexter is already flirting with Elaine by the time Andie arrives with Sal's present. George quickly explains that he has some good news, and tells her the holiday news. They are celebrating when nasty DS Mortimer comes in and arrests Adam for GBH.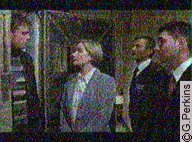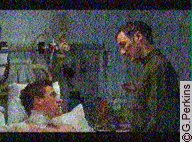 Adam is taken away, with Elaine phoning her solicitor for Adam. Pearce already has him down as guilty. Hyper goes to visit Luke and we find out he's gay. Luke tells Hyper he is going to the inquest. Adam's brief tells him that it is a trumped up charge, more intimidation than anything else. Mortimer interviews Adam and accuses him of beating up Frank. She reminds him of when he assaulted Frank a few years ago over a girl. Ben tries to tell Recall about a decision he has made, but Recall keeps getting sidetracked. Adam is left in a cell overnight to "cool off"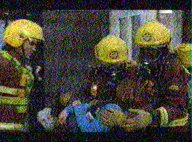 Some youths are kicking a football near a youth club which is full of guides. One of the youths throw some kind of gas bomb through a window, causing panic amongst the girls inside. The pump ladder is called out, with George and Sal left behind to have a cup of tea. As the PL arrives, Pearce tells Recall and Hyper to get into Chemical suits. The guide leader explains that two are missing, so Pearce tells them to get straight into BA, with the youths mocking them every step of the way. Hyper and recall clatter through the rooms of tables and things, and eventually find one of them, luckily the other is outside. Hi-Ho returns to the pump and spots the youths. He asks them if they know anything about the CS gas. One of them slouches off and jumps into the appliance cab and drives off! Hi-Ho chases him but he's off. A police car screeches around the corner and the youth swerves to avoid it, trapping a motorcyclist under the pump.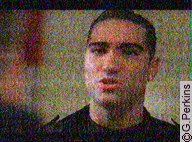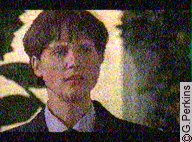 Pearce and Hyper arrive quickly and tell Hi-Ho to reverse the pump, Hi-Ho is frozen but Pearce shouts at him so he realises. The youth is taken out of the cab, with Hi-Ho telling him the book will be thrown at him. The youth needs attention for a hurting head and is not arrested there. Hi-Ho asks the copper whats going on, but Pearce explains it is out of their hands. When the PL arrives back, Hi-Ho is immediately summoned to Pearce's office to get a bollocking. Hi-Ho seems indifferent to the bollocking, saying he doesn't care. Coleman overhears, and walks in. pearce explains Hi-Ho's atitude. Coleman tells him its unacceptable, but Hi-Ho tells them he is sick of the job and tells them he quits. He storms out and when Sal tells him to get ready for the inquest, he tells her to stuff the inquest!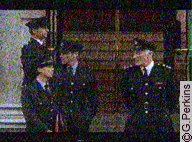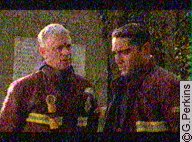 Coleman, Sal and Hyper go to the inquest as Hi-Ho begins to clear his locker. George and Recall enter Eve into the baby competition, and Maggie gives them a picture of Eve. Pearce says they must think he is stupid but the bells go off. Elaine invites Martin benjamin round and tells him she wants the charges against Adam dropped. She threatens to go to the Police about the Benjamin's previous "activities". Martin threatens her that she could lose everything over Adam. The pump is no longer required so starts to head back, but Pearce tells Recall to pull over. He takes Hi-Ho into a cemetary and shows him the LFB memorial, with all the names of the dead firefighters on it. Nearby is a plaque saying "Joseph Walker, Albert Quigley 8.7.99 Hawkins Lane SE1" Pearce tells him, every firefighter is just a normal person, and that every one has doubts. Adam is released from custody, with Mortimer unhappy. Sally and Luke give evidence to the inquest with Brennans solicitor tearing them to shreds. Hi-Ho still hasn't turned up so the inquest breaks for lunch.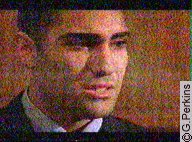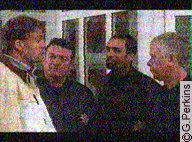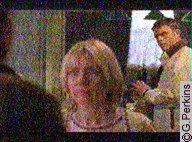 Adam arrives back at the Twist, with Elaine estatic. Hi-Ho eventually turns up at the inquest, just as his last call goes out! Dexter arrives at Blackwall to sort some stuff out before shift and eggs Pearce into the photo competition. Hi-Ho gives evidence at the inquest, and then tells everyone about life being worth more than a few quid. Adam goes back to Blackwall to see the others still on duty, just as the inquest finds the death of Rachel Jones unlawful killing. Pearce gives a shoe box full of photos to Recall and Maggie to enter Eve, while Hi-Ho withdraws his resignation. At the Twist, Hi-Ho thanks Pearce for making him see sense, Ben tells Recall that he's joined the Brigade and Martin Benjamin comes in to remind Elaine that he wont forget today.......
George.................. GLEN MURPHY
Recall.................... BEN ONWUKWE
Pearce.................. MICHAEL GARNER
Sally....................... HEATHER PEACE
Hyper.................... CONNOR BYRNE
Coleman.............. EDWARD PEEL
Hi-Ho..................... FUMAN DAR
Adam.................... SAM CALLIS
Maggie................. SHIRLEY GREENWOOD
Elaine Reeve........ SHARON DUCE
Andie..................... JOANNE ADAMS
Pitbull..................... AL HUNTER ASHTON
Ben......................... FRASER AYRES
Lenny...................... LIAM KERSEY
Martin Benjamin.... JACK CARR
Dexter..................... JOHN ASHTON
Luke....................... SCOTT NEAL
DS Mortimer.......... SUSAN TERDOFF
Steve Morris..........STUART ORGAN
Mrs Rhys............... JACKIE LYE
Penny................... KELLY SALMON
Paul...................... JAMES BOURNE
Jez........................ JAKE RITZEMA
Watkins................ KAMMY OARWEISH
Coroner............... ROSE ENGLISH
Policeman........... PATRICK MYERS
Stunt Performers.. CRISPIN LAYFIELD, DEREK LEA, SEON ROGERS
Please do not use any of these images on any other web sites or commercial use without permission from me!