After "downsizing" in Series 13, the LB crew wisely have decided to reinstate the second pump at Blackwall for the latest series.
Incidentally, in case you were wondering why they are called Echo441 and Echo442, its because their callsigns are broken down into:
E
44
1
Division
(E being Eastern,
G being Western
and F being Southern)

The Brigade is planning
to change the Command
system into a Borough
based organisation
during 2002

Station Number
(44 being Blackwall)
E44 being chosen as
the last Echo station
was E43. However,
E44 is now used by
Lambeth Fire Station
in real life!!
Type of Appliance
(1 being a pump ladder,
2 being a pump,
3 being a Turntable,
5 being an ALP,
6 being a FRU)
Thanks to Simon Rowley for the historical appliances data, please visit his Fire Aid International page
Series 13 (2001)

W439 PCY
Volvo FL6.14, Saxon Sanbec Pump Ladder
This is in fact H373 BTP with a revised front!

N41 JRK
Volvo FL10 / Saxon / Simon ST300S ALP
Hired in from West Midlands Fire Service. Registered J43 SOF, and is now back in Birmingham being used as a real ALP.

W728 DAU
Mercedes A Class
ADO Coleman's car which he uses to get to shouts. No such vehicles exist within London Fire Brigade. However, I want one!
Series 10 - 12 (1998 - 2000)
P859 YEP
Volvo FL6.14, Saxon Sanbec Pump Ladder
To try and give the programme a more "modern" look, it was decided to get rid of the old London "lookalike" appliances and get a new appliance exactly the same as those used in the capital. The Volvo / Saxon combination can be seen at any London Fire Station!

P771 NLF
Volvo FL6.14, Saxon Sanbec Pump Ladder.
This appliance was originally H373 BTP with Hampshire FB until they rolled it. LWT purchased the chassis and got Saxon to rebody it to LFB style. Whilst it was being built London's PL1040 was loaned to LWT for a few episodes. See Series 13 for its latest look..
Series 6 - 9 (1993 - 1997)

C341 NWN
(originally VDT 420Y)
Dennis RS133.
Ex-South Yorkshire FS. This appliance was shown as registered anything from C reg to J reg! C341 replaced a Dodge that Bayleaf crashed. 420 sold to Bells and Two Tones and now a works appliance at Caterpillar.

D256 NWN
(originally VDT 427Y)
Dennis RS133.
Ex-South Yorkshire FS. There is some confusion on which registrations this carried but D256NWN is a confirmed one. 427 was eventually sold to a scrap dealer.

GYW 624W
Dodge / CFE
Used in the first episode of Series 6. This is the appliance Bayleaf used to crash into a car.
Series 3 - 5 (1990 - 1992)

Various Regs (originally BWG 322/3T)
Dennis RS133.
Ex-South Yorkshire FS. 322 preserved in the Pump House Museum in Walthamstow, while 323 was rolled down a bank in an episode and has been scrapped
Film and Series 1 - 2 (1988 - 1989)

GYW 628W, YHV 194T
Shelvoke & Drewry WX / CFE
Ex-London FB, these two appliances were used for two series plus reserve for an additional three. 628 is now preserved at the Pump House Museum in Walthamstow
Appliances from other stations
Whenever theres a big shout on LB, there has to be additional appliances from neighbouring stations. Many times, the two Blackwall appliances have been used again but without showing their Blackwall markings.

Shadbrook have used Dodges for nearly 10 years now (!) with varying registrations. They also have had a Fire Investigation Unit (London's MDC37 still in use) and a TL (A793 SUL). Now they are using P859YEP ex-Blackwall with the P771 NLF registration plates. Also their TL was rolled over (like Paddingtons was) during Series 13.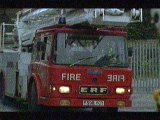 Borough Street only appear on major shouts and we have only seen their HP XDL 62K, which was ex-Isle of Wight, but now owned by David Deane Associates and for sale, if anyone wants it!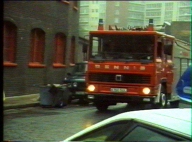 In early series, Charlton were likely to be seen (usually with Josie Ingham in charge) with their Dennis SS131. At various times, A749 SUL (ex-London) and other non-London appliances were seen.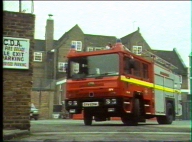 Also in Series 6, Greenwich were seen at a large hospital shout using ex-Blackwall GYW 628W.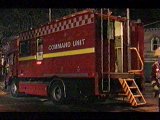 Also present in most large shouts are the "Divisional" vehicles, such as Command Units. Sometimes, even Brigade Headquarters provide a command unit, as seen in Series 11, which at that time was so new, it hadn't been used in London!
All photos are © Gareth Perkins. Please do not use on other web pages!