Name:
John Coleman
Rank:
Assistant Divisional Officer
(Station Commander)
Age:
mid 50s
Lives:
London
Married:
Widowed
Children:
None
Previous Postings:
Clapham
John Coleman joined Blue Watch in 2000 (episode 9), as the new Station Officer, replacing Chris Hammond. One of the elder Station Officers in the brigade, he is an "old school" firefighter bringing discipline to the Watch. This is why the new DO (Griggs) has brought him in. He has won commendations at his previous station (Clapham) and also at Kings Cross. He has been nicknamed "Mustard" at previous posts for obvious reasons!
In Series 13, Coleman is now Station Commander and has been promoted to ADO. Therefore he doesn't attend many shouts unless they are more than four pumpers. He has started to become involved with a local councillor, Alison Hemmings.
John Coleman Photo Gallery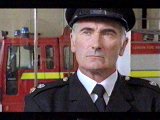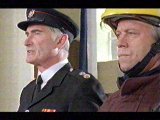 The Actor - Edward Peel:
| | | | |
| --- | --- | --- | --- |
| | | | |
| Edward in The Sweeney | | | |
Edward is another experienced actor, having previously been in Emmerdale, The Sweeney, Dr Who and numerous adverts. Funnily he appeared with Jonathan Guy Lewis (StnO Hammond) in a play called "An Inspector Calls" in 1994, and in Dr Who with Sean Blowers (SubO Hallam)!
Edward is also heavily involved in the Leukemia Research Fund and having dragged members of the cast into the Great North Run, they are now going to do the London Marathon.
Why not help the cause by donating online here.